Mysteries & Questions
Can you solve a mystery?
See mystery solutions!! Look here for old unsolved mysteries!
Do you have a mystery of your own?
Send us a solution to one mystery or suggest another.
Ah, you ask about prizes for solutions . . . we're pondering this question.

Query: Do any of you have any ideas about this inquiry? Let us know.
I am writing to you from the United Kingdom. Until recently I had not heard of the island of Tobi until a piece of family research uncovered a possible connection with the island. My Great Great Great Grandfather was a captain in the merchant navy. His name was Robert Chapman and he was captain of a merchant vessel called the Frank Carvill. He was lost at sea as a result of sudden illness on 9th March 1884 and a piece of parchment I have recently discovered claims that he was buried on the Island of Lord North by his son William on or about this date. Does this mean that he visited Tobi island over a hundred years ago and if so what was the purpose of his visit I wonder? Do you have any records of the islands history that might reveal the mystery of why my relative was sailing in this part of the Pacific Ocean so far from his home and family in Kirkcaldy, East Fife, Scotland. I would greatly appreciate any light you could throw on this mystery.

Query: What do you think about this? An article about breadfruit fermentation in Micronesia says that some people on Peliliu claimed that Tobians fermented breadfruit in pits. Take a look at the article: Breadfruit Fermentation in Micronesia and let us know what you think!

Query: Do you know these girls?
In 1957 John Orzalli was assigned to a US Navy destroyer escort operating in support of the Trust Territory. The USS Leray Wilson visited several islands in the Eastern and Western Carolines, including Tobi and Helen Reef and the other Southwest Islands. Captain Orzalli sent us his recollections of this trip and this photograph that he found recently:

It is labeled Tobi but he thinks it was probably taken elsewhere. Does anyone know where—it looks like railroad track in the foreground? Or recognize the three little girls? The Naval officer with the girls is Robert Hanson who made a career of the Navy and retired as a captain.
* * *

Query: Now here's a mystery for you—does this look like a Tobi monkeyman?

We came across it in the Museum of the Ancient Orient in Istanbul, Turkey. The label identified it as a Votive Statuette of Pre-Islamic Arabia, 4th - 1st Century, BC. Did someone make a big mistake?
* * *
Query: A question posed by Steve Tripp: The US Government publishes the Sailing Directions, which contains descriptions of nearly every island and harbor in the world. SD 126 is for the Pacific Islands and contains this entry for Tobi. Does anyone know if the description is accurate?
10.54 Tobi Island (3 00'22"N., 131 07'26"E.) is covered with coconut palms.
A cultivated area is situated near the middle of the island. Most of the
houses are situated on the SW side of the island. A dispensary and radio
station are situated on the island. The island is fringed by a reef, which
at the N end, extends nearly 0.5 mile NE. A dredged channel has been
reported to have been cut through the reef fringing the SW side of the
island. A SE current with a velocity of 1.25 knots has been reported in the
vicinity of the island. Tobi lies in the flow of the Equatorial
Countercurrent throughout the year. Some piers and mooring buoys are
reported to be situated on the SW side of the island. It was reported that a
medium-size vessel has berthed at one of the piers.
* * *
Query: Does anyone know who carved any of the monkeymen at the Milwaukee Public Museum? Chris Louvar is writing a thesis on this collection and is trying to find out if anyone knows when these monkeymen were carved or who carved them? Take a look and let us know if you have any information about these monkeymen.
* * *
Query: Whose canoe (or canoes) are these? Does anyone know?
It is pictured in Canoes in Micronesia by Marvin Montvel-Cohen.
* * *
Query: A correspondent from the Netherlands has asked us if we have any information about the Pertinax, a Dutch brik (brig?) that visited Helen Reef. The captain of the ship, sailing from Makassar to Hong Kong in 1873 (?), was one of his ancestors. Does anyone have any information to pass on about the Pertinax? Let us know.
* * *
Does anyone have any ideas about this wood carving? The second image is a Japanese label attached to the leg of the figure which reads "carved material made in South Pacific." The figure has blue glass eyes.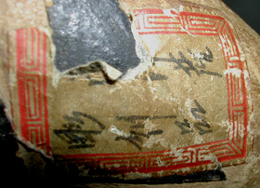 Most of the anthropologists who have looked at this think it is from the Western Carolines and was probably made just before World War II. Such pieces were still being made in the Yap/Ifaluk/Woleai area and sold in Palau and Yap in the late 1950s and early 1960s.
* * *
Does anyone know what happened to the FOTI Forum?
Several of the discussion topics were deleted! Was it a mistake? Was it intentional? Any ideas?
* * *
Has anyone ever heard of a village in Helen Reef in very olden times?
Dave Sapio sent us this fragment from Eilers which talks about such a place. What do you think about it?
* * *
Mysteries from photographs from the TT Archives:
Does anyone know this canoe?

Photo 33 from Reel 1871.
* * *
Mystery question posed by Stella Patris:
Does anyone know anything about the Ghost House on Tobi Island?
* * *
Hiheyar or hiyahe. Does anyone know the identify of this bird? From the old Tobian fishing song. Is it a fairy tern? Does anyone know what Haniyah is all about?
* * *

FOTI Home
Updated: May 3, 2009